Here we go with day #3!
The sketch, from
Sketches for Scrapbooking, Volume 2
, that I am using as my starting point on all five layouts this week.
Layout #3 - "The Backup Band"
Supply List - Cardstock: Bazzill; Patterned paper: Nikki Sivils, Scrapbooker; Chipboard music notes: Bazzill; Star cut outs: Nikki Sivils, Scrapbooker; Edge punch: EK Success; Alphabets: My Little Shoebox (the), Prima (backup), and American Crafts (band); Jewels: KaiserCraft; Buttons: Nikki Sivils, Scrapbooker; Paint: Ranger
Variation #1
- Whenever I want to use a sketch over and over, one of my go to variations is changing the photo sizes. Whether it's breaking a larger suggested photo into several smaller ones or using a larger photo in place of a small group of photo, this is a great way to change the look.
While the page is about the kids singing backup for us while the adults were playing Guitar Hero, I wanted to have at least one picture of an adult playing to help support the story. I had one photo that perfectly framed Mike playing the guitar (if that's what you can call it!) and the kids singing. I kept the 6" width of the photo but cut the height to 3 1/2" to match the other photos along that strip of patterned paper.
Variation #2
- I thought it might be a fun and different look to use the same patterned paper on all three of the background strips. Each of our sketches has a key that suggests papers to use but just like the sketch itself, it's just a suggestion, not a have to. I love the record pattern from the Nikki Sivils, Scrapbooker paper and thought I could have a little fun with some stitching on it.
Now this might be a scary suggestion for those of you who are just starting out with hand stitching but I always recommend saving it for the very last. Hand stitching can be a little time consuming and by adding it last you are saving a lot of time because there is no need to stitch behind elements on the page if you aren't going to see it anyway. Could you imagine how much stitching that would have been if I would have done it before I added the pictures!
Variation #3
- I just got a new edge punch a couple of weeks ago that I have already used on three layouts! The green circle strip made with that punch is across the top and bottom pieces of patterned paper. The green color is dark enough that if I would have just used it alone it would have gotten lost in the dark colors of the record paper. To help it stand out I backed it with a 1/2" strip of a grey patterned paper. The sketch calls for a 3/4" strip but you really can do pretty much whatever size you want or even multiple smaller strips instead and as long as it's in the same area it going to work.
Variation #4
- For my embellishments on this layout I used chipboard music notes covered in a metallic silver paint. I added the star cut outs from Nikki Sivils, Scrapbooker on top of them and then punched a few smaller stars out of coordinating papers.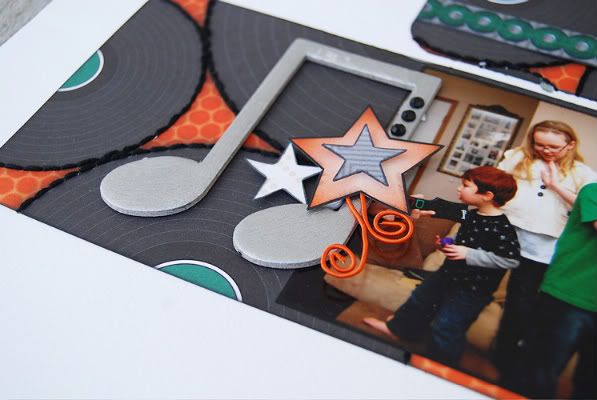 On the orange star I added orange Memory Thread for a little finishing touch. I also added a few jewels to the music notes.
Variation #5
- I was a little scared to do journaling strips with my own handwriting but I have to admit it was a breeze. I like my journaling strips to be on the skinnier side and I was afraid that my handwriting would require me to cut them a little thicker. To my surprise they aren't any bigger than ones I've done with computer printed journaling strips.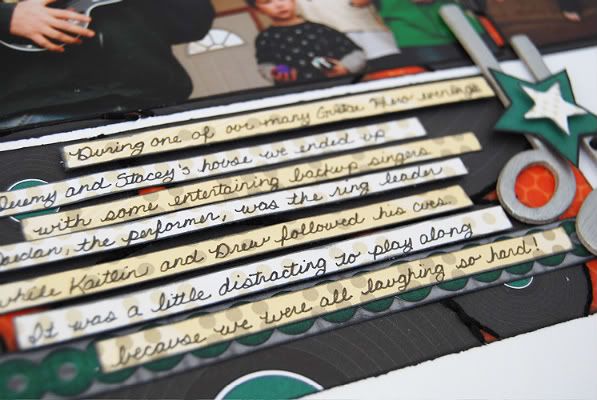 Changing up the journaling block is an super easy way to alter the look of the sketch. I like to use journaling strips for those times when I need to wrap around something. It might be a person in a picture or in this case the music notes and stars.
Variation #6
- I added three buttons below the "band" in my title. I was afraid that with the black on black of the letters and the record paper that I was going to lose part of the title. I used the buttons to help draw attention to the black letters of the title and to help them stand out a little more.
Day #3 means it's your third chance at winning a copy of
Sketches for Scrapbooking
and the awesome
Nikki Sivils, Scrapbooker
giveaway.
Well today is a posting success! There is a huge sigh of relief coming from me right now!