A couple of weeks ago in my
post here
I talked about why I like using a grid pattern on my pages. On that layout the grid was made up of several photos which is a great to use for themes with lots of photos. It's perfect for including lots of detail shots of an event or a review type of layout. Like a "Day/Week/Month in the life of..." or a monthly layout with your favorite pictures of that month.
On this layout the whole design is a grid consisting of patterned papers, pictures, and the journaling.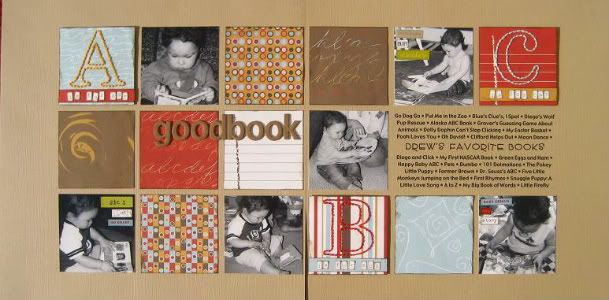 I can't believe how little Drew looks in those pictures! Look at those chubby cheeks and his wildly curly hair! He's growing up way too fast for my liking!
One reason I love using this type of total design grid is that it is so easy to do and there are so many possibilities when it comes to what elements you want to use. For example, my layout consists of 3 x 3 blocks of patterned paper and photos with the journaling taking up a 3 x 6 block. You could easily use less patterned paper and more photos or less journaling and larger photos. Like maybe three 3 x 6 photos and the remaining space filled in with 3 x 3 patterned paper blocks. There are so many ways to switch it up.
Another fantastic thing about this grid design is that is can be adapted to fit any skill level or style. It's one of those no fail designs.
Now I really want to play around with this design and try different shapes instead of the squares! :)