Day two of Sketch Week features my favorite layout of the bunch.
The sketch that I am using for the starting point of all five layouts this week.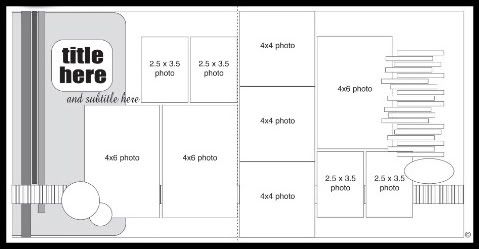 This sketch is now available to download and print. To access it you can click on the orange "downloads" button the right side bar of my blog.
Layout #2 - "Sweet Splashin'"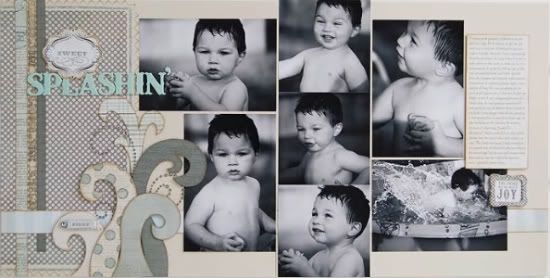 Supply List - Cardstock; Bazzill: Jewels; Prima: Everything else; My Mind's Eye
• Variation #1
With this sketch it is very easy to convert the photos to all 4 x 6. I didn't use all 4 x 6 photos but did exchange the four wallet size photos on the sketch for two 4 x 6 photos. You could also do the same with the three 4 x 4 photos and instead use two 4 x 6 photos. One thing I love though about 4 x 4 cropped photos is that they are so easy to crop from a 4 x 6.
• Variation #2
To make room for a larger embellishment on the bottom left of the page I removed one of the 4 x 6 photos. I love adding larger than normal pieces to my pages and you can easily do this to almost any sketch. It might take a little tweaking here or there but it can be done. As long as the embellishment ends up in the same general area as it is on the sketch it's not going to alter the balance of the layout.
This collection from My Mind's Eye obviously has a boy theme to it but I thought it would also be beautiful to use with water pictures. Especially with all the glitter accented on pieces throughout the collection. You don't have to have the exact theme of patterned paper as the theme of your layout. There was nothing to do with splashing or water with this collection but I added my own handmade accents to help tell the story of the layout and fit my theme.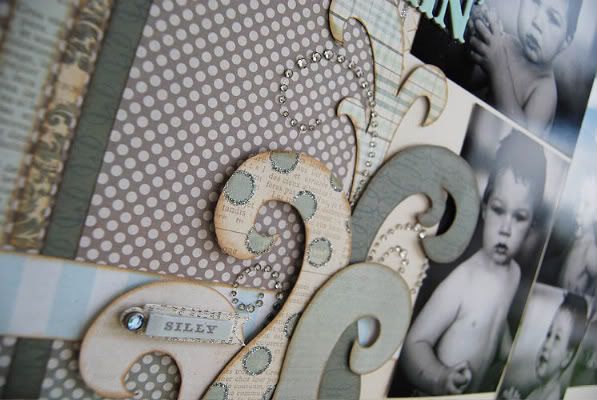 To make the splashes of water I drew the individual pieces on different patterned papers and cut them out. Now before you say "I can't do that!", trust me, everyone can do this! I struggled with this piece for awhile. None of the pieces I were drawing were coming out with the right curve, look, or shape that I wanted. I was about to give up and use a chipboard piece instead when I got an idea. I gathered a few chipboard and jewel flourishes from my stash and used them for a little help in what direction to go with the splashes. The chipboard and jewel flourishes were quite a bit smaller than what I wanted for the page but I could try to mimic the same curves and shapes as they had. It worked and I was very happy with how it turned out.
• Variation #3
Instead of journaling strips I used a simple journaling block. Journaling strips would have worked fine and there really wasn't any reason not to use them but when I sit down and create the layouts for Sketch Week the journaling area is always one that I try to change with each layout. It is a very simple variation you can use for creating multiple layouts with one sketch.
While we're on the subject of journaling, you might wonder why I have the big splashes on my page when there isn't really a lot of splashing going on in the pictures. Really, aside from the big splash photo on the right page, you might not even notice that Jackson was playing in the water. That is were the journaling came in. This falls into the category of "What story isn't told by the pictures?" I have tons of pictures of him splashing around in the pool but very few
great
pictures of just him, in the moment, being Jackson. You know, those pictures that you instantly want to frame and hang up where you can see them every single day because it perfectly captures the beauty of the subject. Well, I had him splashing in the pool to thank for the distraction and luck in getting these pictures. The splashing is a somewhat small part to the story but it definitely supports it and I wanted to use it to accent the page in some way.
• Variation #4
I don't think this is really a variation of the sketch but more of a variation of style. Most of the time I use color photos but with this layout I went with black and white instead. I used black and white one, because I thought that black and white would look great with these papers and two, because the colors in the photos weren't my favorite. They background was dark orange and green and just didn't fit with Jackson's expressions. I know that might sound a little weird but I thought Jackson himself had a soft, innocent look in the pictures while the background was too bold and dark. It just seemed right to convert them to black and white to help soften the picture.
Day two means it's your second chance to win one of the three spectacular giveaways from My Mind's Eye and Scrapbook Generation! :)