Sketch Week is here! I always get so excited when this week rolls around. It is such a fun way for me to challenge myself with sketches and my creativity. I highly recommend that you all try to challenge yourself to your own little sketch week and see what you can come up with. It really is a great way to push your creativity with sketches.
Here is the sketch, from my personal bank of sketches, that I will be using as the starting point for all five layouts this week.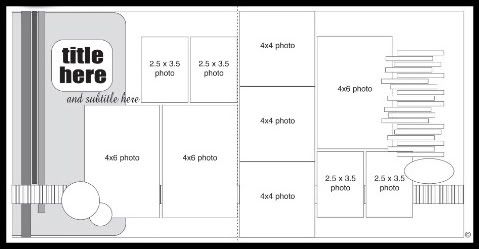 • This sketch is now available to download. All you have to do is click on the "Downloads" link on the right side of my blog, it will take you to the downloads page where you can download and print the sketch.
One of my favorite things about this sketch is that it fits 10 pictures in many different sizes. It's has a great balance of large, medium, and small photos. Over the course of this week I'll show you several different options for the photos, large and small. Plus I've done several variations on the right side with the papers.
Supply list - Cardstock; Bazzill: Everything else; My Mind's Eye
I instantly fell in love with this collection from
My Mind's Eye
at first sight while at CHA. I also instantly knew which pictures I was going to use with it.
This layout follows the sketch almost exactly so instead of telling you about variations today, I'll show you in detail some of my design ideas.
When I read the charming, adorable, sweet quote on the die cut piece I knew it would be a perfect fit for these pictures of Drew. The die cut patterned paper piece that I used on the right side of the page actually had the same quote already on it but since I have a slight obsession for pop dots I added the die cut quote on top of it. The die cut was smaller than the quote printed on the paper and ended up framing the die cut perfectly.
I added the "Drew" part of the title with cute banner alphabets for two reasons. One, because I loved the stickers and two because it drives me crazy to have inconsistent gaps between things. Notice that the margins between my photos are all the same. Now look at the margins between the three strips of patterned papers going down the left side, they are the same. I am big on all of the margins on my page being consistent. I also like for most everything on the layout to be grouped together; the title, the journaling, and the pictures. When they are grouped together they are the main focus of the layout, together. (This could quite possible be another proof of my OCD personality.) Without the "Drew" banner the title was just too far away from the main focus of the page. Adding in the banner brought it all together.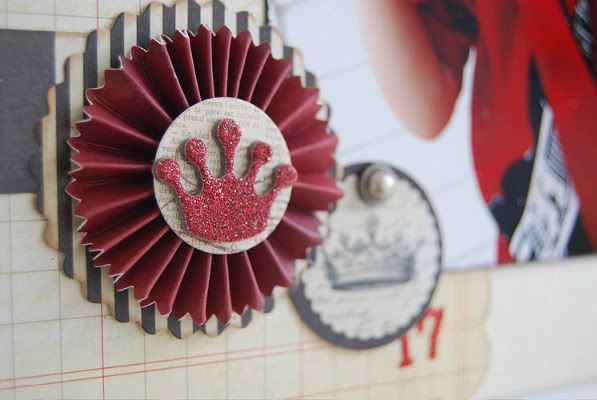 Adding the embellishments can be a tricky part to a layout. You don't want to add too much and take away from the photos. The embellishments are often a nice finishing touch that bring the whole layout together. My rule is to have three areas on my layout for embellishments. I explained in my last post about using a visual triangle and how I like using it to frame my photos.
I counted the title as one embellishment area since I had the banner and a brad. The second area I added a pre-made embellishment and die cut tag from MME. The third is the "I Adore You" die cut. To add interest to these areas I try to make at least one thing in each area dimensional by using pop dots. See I told you I had a thing for pop dots.
Again, like with the title, I like for the embellishments to be consistently grouped with the rest of the design. What I mean by that is, if you have embellishments, your title, your journaling, and your photos spread out inconsistently all over the page the person looking at it has to search for everything. Using the same consistency keeps everything all together and you instantly see the title, the photos, the journaling, and the embellishments.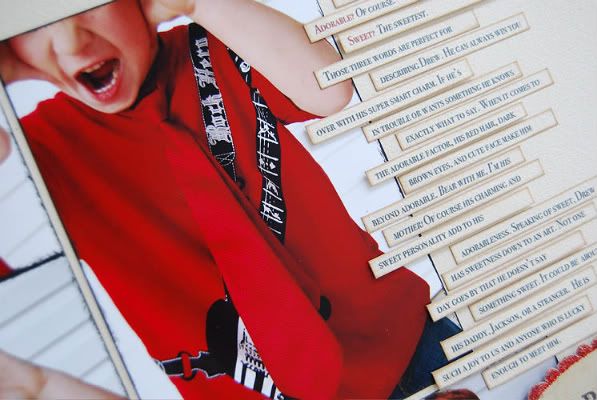 I always talk about how much I love to use journaling strips and one of the things I love doing with journaling strips is...any guesses? Adding pop dots to a few of the strips. Surprising, I know. I always want the story of my layout to stand out and adding dimension to it is an excellent way to do just that.
When I start creating a layout the first thing I think about is the journaling. What story do I want to tell? What aren't the pictures saying? What do I want to remember about this very moment? Sometimes I instantly come up with what angle I want to take and other times I come up with nothin'. Sometimes pictures, like these of Drew, can be difficult to journaling about. There really wasn't much of a story other than Drew looking super cute in his tie. Sure I could use "Drew looking super cute with his tie" and the date and call it good but I like to add a little bit more of personal touch to my journaling. With these kind of pictures I like to take the time to tell a little about the subject's personality or maybe a story that I don't have exact photos for.
In this case I wasn't sure what direction my journaling was going to take until I read the quote on the title die cut. Drew is definitely charming, adorable, and sweet, so this was the direction I took for my journaling by explaining what makes him charming, adorable, and sweet.
I think it was a pretty much a landslide vote on the giveaway for this month from
My Mind's Eye.
If you missed the last post, there will be three giveaways. Each giveaway will include three collections from My Mind's Eye who so generously donated one of
everything
from their newest collections. I'm still in amazement at just how much product that is.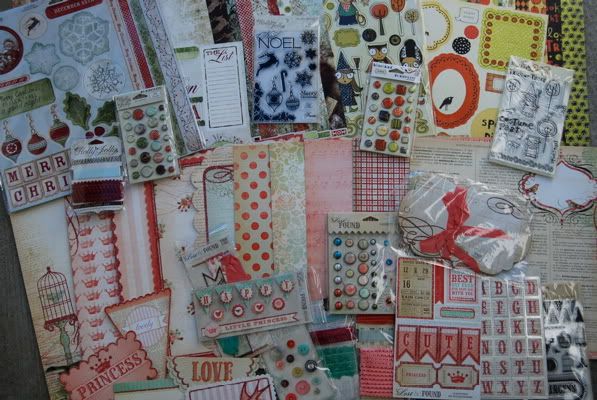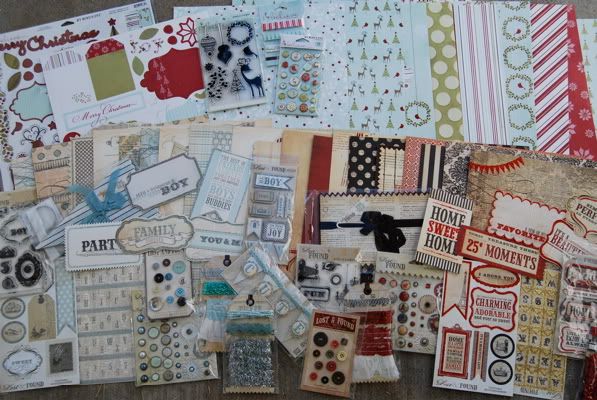 On top of that each giveaway will also have a copy of
Sketches for Scrapbooking
included, volume choice is all yours. :)
Here's the rundown of how the giveaways work: I'll be posting everyday, Monday - Friday. All week you'll have a chance to leave a comment and next Monday I'll post the winners. You can leave more than one comment through the week to be eligible but not on the same day. (five days = five chances to win!)