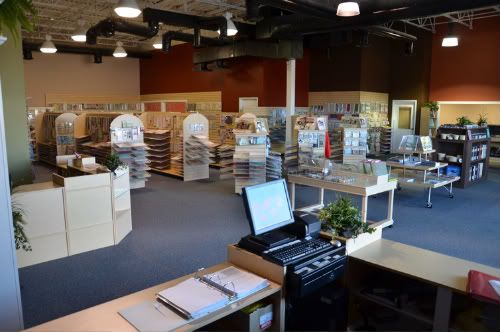 The pictures just don't do the place justice. It is near impossible to get the whole store in one picture. Here you can see about 90% of the shopping space. Also, you don't see in these pictures the lobby, the huge classroom, and our office area. Some of my favorite additions include:
• Our check out area that now has four registers instead of two. Most of the time two is all we need but often we have events that require more than that. At our last birthday celebration we had three registers going with lines going all the way to the walls on the other end of the store. It was madness!
• The aisles in the back area of the shopping space are so long.
• Of course I have to show you the American Crafts Thickers wall.
If I remember right Mom said we have around 125 different Thickers. At one point during set up I heard her say something about maybe ordering too many. I was quick to let her know that you can
never
have too many Thickers.
• The space for our Seasonal and Latest and Greatest sections are so much bigger.
In the old store it was sometimes an impossible puzzle trying to figure out where everything was going to go. I don't think we'll have that problem here since we now have three walls dedicated to those sections.
It was so much fun to be there today and here everyone that walked in say, "Wow!" including our UPS guy.
Like I said yesterday, there is still a lot of work to finish our vision. We have so many plans that we are anxious to get started on and I can't wait to see the finished result.