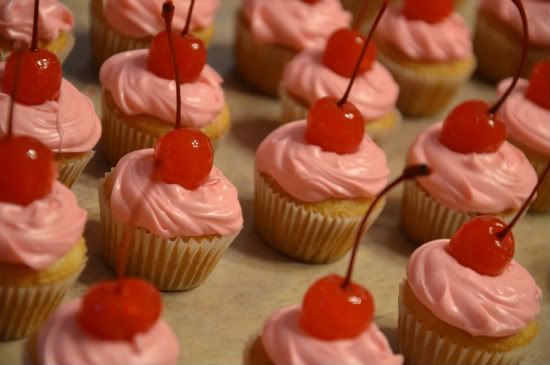 Another entry into the Allison's cupcake adventures.
This mini-cupcake thing is getting a little out of hand. If I keep posting so much about cupcakes eventually I'm going to have to add "cupcake creator" to the title of my blog. Out of pure boredom, and a recent viewing of Cupcake Wars, I decided to make these little cherry topped cuties.
Cherry chip cupcake + cherry almond icing + a cherry on top = awesome!
I cheat when I make cupcakes. I go for quick and easy with box mixes and pre-made icing. It's kind of like using a sketch for scrapbooking. I have a starting point and then add some different flavors and details.
The sign that they tasted good? Finding ten empty cupcake liners hiding in Drew and Jackson's book shelf. (and Jackson's pink lined lips)
Next up in my cupcake adventures: Mickey Mouse cupcakes for Jackson's 3rd birthday party. I've researched. I've planned. I will conquer.