A couple of weeks ago I drove the boys to school like I always do. We dropped Drew off first and I noticed that Jackson was abnormally quiet in the backseat. I walked Jackson to his classroom and he gave me the same hug and kiss I get every morning. It was all very routine. Except for Jackson's mood. He just seemed kind of sad.
I drove home to get ready for work and I just couldn't get his sad little face out of my mind. I felt terrible about it. I got home, got ready and drove back to Jackson's school to pick him up. I'm in a very unique and lucky situation where I can pretty much do whatever I want job-wise. And on that day I made the executive decision that he could spend the day at Scrapbook Generation with me.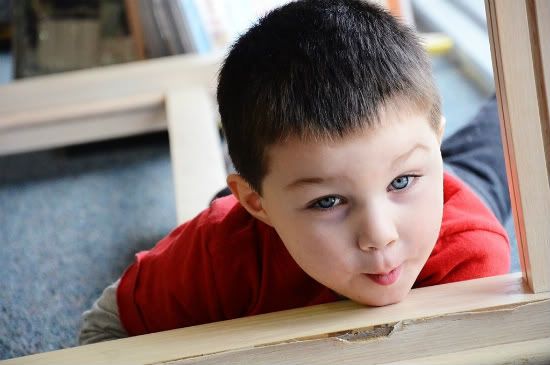 I could not stand to see him so sad when I dropped him off and then go about my day like it was normal. Not when I have the freedom I have with my job. I spend way too much time saying "Goodness, time is flying by!" and often times without doing anything about it. I know I can't slow it down but I can make the most of it!
Jackson isn't going to be this age much longer and I love this age! I'm going to blink and he's going to be in Kindergarten. Two blinks and he'll be graduating high school. I needed to take a day (and many more) to spend with him and enjoy the three-year-old Jackson before he's all grown up!
This cute smile is so much more important than work!
Now is it professional to have a three-year-old running around the store belting out the lyrics to Michael Jackson's Thriller? Probably not. Was it funny and quite possibly one of the best times I've ever had with Jackson? Absolutely!
••••••••••••••••••