I had the opportunity to guest design for
Nikki Sivils, Scrapbooker
this month and was excited to work with the new Noah collection. Being the mom of two boys, I'm always drawn to boyish themes and color combos and Nikki's was so fun to create with!
I was in the mood to go through some older photos when I came across a group of pictures of Drew, acting just like his daddy.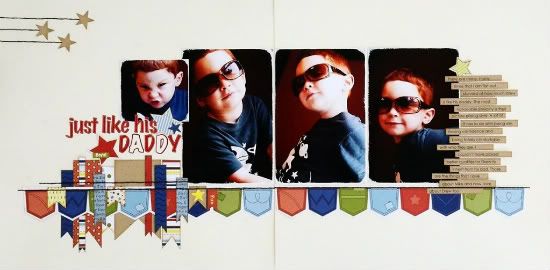 Supplies - Cardstock: Bazzill; Patterned paper, cut outs, stickers, die cuts and alphabet stickers: Nikki Sivils, Scrapbooker; star punch: Fiskars
For some reason, when I take pictures, both Drew and Mike tend to get a little pose-y-ish (so a not real word!) See that middle picture on my layout? Exactly like his dad. I feel like am I a looking at a four-year-old version of Mike. This is probably their most noticeable similarity - their picture posing style. A lot of it has to do with being silly, having confidence and being totally comfortable with who they are. I couldn't have hand picked better qualities for Drew to inherit and learn from his dad.
Here's a closer look at the layered strips and banners on my layout: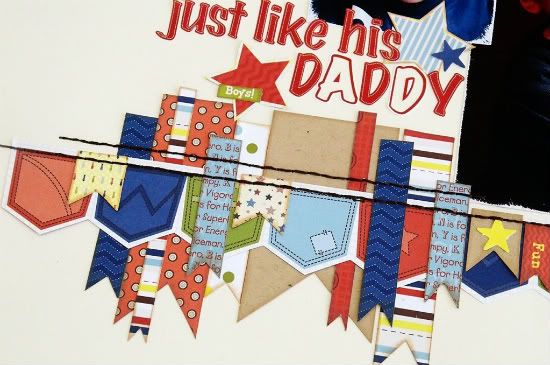 I feel like I should pass on a wonderful little tip I discovered in Creating Keepsakes magazine long ago. When using letter stickers you can cut out the negative of the letter from the sticker sheet to use. See the "A" and "D" in the word "Daddy"? I was all out of "D"s so I cut around the red frame that is left on the sticker sheet. It's an easy way to get more mileage out of those alphabet stickers!
••••••••••••••••••••