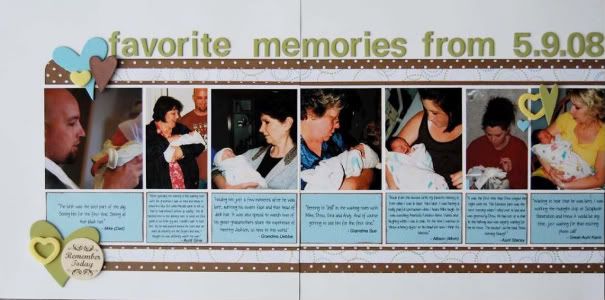 One of my favorite things about working for Creating Keepsakes magazine have been the ideas. Without them I probably never would have came up with some of my most cherished layouts. This is one of them.
I was asked to create a layout that included journaling with the help of my family. I had a flood of ideas but ended up settling on asking my family members, "what was your favorite memory of the day Jackson was born." Each answer is completely different and I love that I got a peek into what was going on outside of my labor and delivery room.
Not only is this a great way to get a bunch of different perspectives on an event and document stories that you might have not known happened but your family has done your journaling for you. Can't beat that!
Wanna know what my favorite memory of the day was?
"Aside from the obvious birth, my favorite memory is from when I was in labor. I was having a really painful contraction when I heard Mike laugh. He was watching America's Funniest Home Videos and laughing while I was in pain. At the time I wanted to throw a heavy object at his head, but now I find it hilarious."