Drew and I took a vote and layout #4 is our favorite of the week. (Even though he informed me that puzzles are not for scrapbooking.)
The sketch, from
Sketches for Scrapbooking, Volume One
, and the starting point for each of my layouts this week.
Supply list
-
Cardstock:
Bazzill Basics Paper;
Patterned paper:
October Afternoon (red, yellow, print, green, stripe), My Mind's Eye (blue), Scenic Route (green dotted), and Cosmo Cricket (brown);
Alphabets:
American Crafts;
Word stickers:
Creative Imaginations and Making Memories;
Arrows:
Creating Keepsakes KOTM;
buttons:
Fancy Pants Designs
• Variation #1
- I think I would be safe to assume that the background design is the most noticeable difference. This layout took such a different turn than I had originally planned, but in a good way. I had wanted to show how adding one solid piece of paper in place of the four 3" x 7" pieces is a quick and easy way to change up the look. Well, the wheels in my head started turning and I eventually found myself digging through Drew's puzzles.
I ended up going the opposite direction of quick and easy but I couldn't resist the idea that was swirling in my head! To make this background I took one of his puzzles and put it together to see if it would work in the suggested space. After pulling off the flat edge pieces it was the perfect size. I traced and cut each piece out of different patterned papers and then inked the edges. When it came to adhering it all down I didn't worry about each piece fitting perfectly together. Since I hand cut each one the chances of them fitting together was pretty slim. I overlapped some and left a little bit of space here and there. I really tried not to worry about if it looked even and perfect.
• Variation #2
- The pictures on this layout are quite a bit different than the ones suggested on the sketch. In place of the larger 5" x 7" photo I used two 3 1/2" x 5". This is a great option for those of you who like using 4" x 6" photos. You really aren't cropping off that much to make a 5" x 7" block of two photos.
For the four 2 1/2" square photos I instead used four wallet size photos. They still have the 2 1/2" height but are 3 1/2" in width.
• Variation #3
- I struggled a little with the flourish element on this one. I loved the puzzle pieces as the background and was a little hesitant to cover too much of it up. Then I remembered the box of clear embellishments in my scrap closet.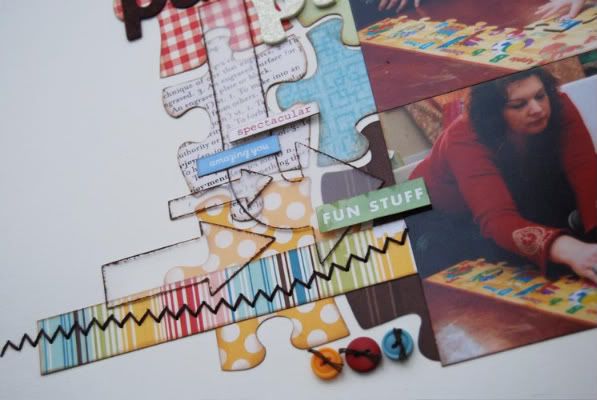 The clear arrows were a perfect fit and I didn't have to worry about completely covering the puzzle design. I added a little bit of brown paint around the edges of the arrows so they didn't get completely lost in all the different patterns and colors.
• Variation #4
- Just like layout #3, instead of having the journaling strips straight and even, I went with a uneven look. The strips are also 4" instead of the suggested 6". I wanted as much of the puzzle design showing as possible.
Another day and another chance at winning a copy of Sketches for Scrapbooking!  :)