Today is the last day of sketches week. I'm always a little sad to reach the end but also start to feel excited for the next month.
The sketch, from
Sketches for Scrapbooking, Volume One
, and the starting point for each of my layouts this week.
Layout #5 - "Cookies for Santa"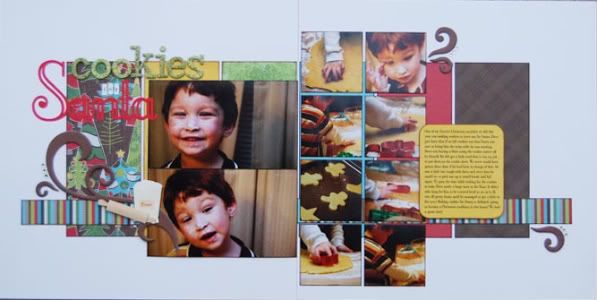 Supply list
-
Cardstock:
Bazzill Basics Paper;
Patterned paper:
Crate Paper;
Alphabets:
American Crafts (cookies), Making Memories (for), and I'm not sure what the Santa is because I bought it so long ago;
Chipboard flourishes:
Bo Bunny;
jewels:
KaiserCraft;
Stickers
(flour and rolling pin)
: Jolee's
• Variation #1
- I mixed things up with the photos this time by adding another column of four 2 1/2" square photos and by substituting two 3 1/2" x 6" photos for the suggested 5" x 7" on the sketch. This is another great option for using a couple of 4" x 6" photos. All I did was cut 1/2" off each one to end up with the same 7" height.
• Variation #2
- Because I added another column on the right page and the photos on the left page had more length I used a technique I call "extending" the sketch. On yesterday's layout I used "stretching" and while this is similar and kind of sounds the same it's still very different. Stretching is pulling the overall design to fit the extra pieces you've added. Extending is adding more of the same design. To explain in a little more detail (and I'm trying not to seriously confuse you all!), since I added more photos I added one more 3" x 7" strip of patterned paper on each page for a total of six strips. The photos would have covered up enough of the original four 3" x 7" strips that it was almost pointless to have them there. Sure I could have used the stretching technique and add wider strips but the whole point of sketches week is to show you several different ways to use a sketch over and over.
• Variation #3
- I ended up going back to using a flourish as suggested on the sketch and added a few extra embellishments on top of it.
I decided to take out the three circles below it and repeated two more flourishes in place of the other two sets of circles on the right page.
• Variation #4
- I decided to leave out the stitching on the striped strip. I just wanted to show that the strip works great on it's own without the stitching.
• Variation #5
 - I used a journaling block instead of strips. Cutting out journaling strips can kind of be a pain and take a little more time than just adding a simple block. It's also a great way to change the look of the layout too.
It's the last day for the giveaway! Be sure to check back on Monday when I announce who has won a copy of Sketches for Scrapbooking. :) I hope you all have a great weekend!